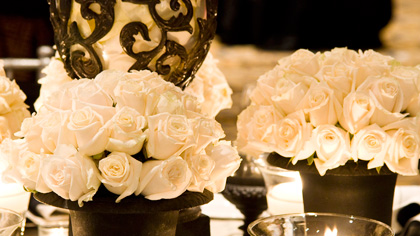 Photo © and courtesy of Creme De La Creme
The CRÈME DE LA CRÈME Grand Wedding Showcase at the Four Seasons Vancouver is quickly approaching - on October 30th!


CRÈME DE LA CRÈME raises the standard of wedding shows with an unmatched haute couture fashion show, trendsetting designs, and showcase of products and services that convey style, artistry and excellence. We are so excited to be part of this year's show - and are looking forward to meeting with brides to discuss their stationery needs.

Here are the details:


SATURDAY, OCTOBER 30, 2010
FOUR SEASONS HOTEL VANCOUVER

791 West Georgia Street, Vancouver, BC V6C 2T4

11:00AM to 6:00PM WEDDING SHOWCASE
1:00PM to 2:00PM HAUTE COUTURE FASHION SHOW
3:00PM to 4:00PM ENCORE PRESENTATION

TICKETS: $45 PER PERSON (includes fashion show, deluxe gift bag & scrumptious tastings & full-scale pampering)

Be sure to check out the videos on the CRÈME DE LA CRÈME website to see what it's all about!

So, how do you go about getting two free tickets (a $90 value!)? Simply leave a comment below answering the following two (multipart!) questions, and I will enter you into a draw to win this pair of tickets. One entry per person, contest closes October 16th, 2010 - so be sure to post your comment before then!


1. Are you using a wedding planner for your upcoming wedding? 1.a) If so, who? (please provide planner's website URL) 1. b) If not, why not?

2
. Are you considering letterpress for your wedding invitations? 2.a) If not, why not?

Winner will be drawn October 16th - please be sure to visit our blog on the 16th to see if you've won, as we will need your contact information in order to mail your tickets.

Good luck!!!